Our extensive range of solid timber staircases has developed over the last 30 years from simple straight flights to complex multi-landing and curved designs. All of our timber staircases are manufactured from the very best ethically sourced lumber available. We use New Zealand clear Pine, beautiful WA Jarrah, NSW Blackbutt, American White Oak, French Oak, American Black Walnut and can source others if required.
Click below to explore the different types of solid timber staircases that we can build for you. To obtain a quote, simply provide an attachment of your plans below.
Timber Staircases
Any staircase can take you from one floor to another, but if you want to get there in style, you need a timber staircase from Majestic Stairs.
For decades, we've been providing the custom design, manufacture, and installation of premium staircases, handrails and balustrades in Western Australia.
Timber Staircases to Suit Your Style
Majestic Stairs crafts timber stairs to enhance any residential or commercial areas. We appreciate history and stay up-to-date with on-trend styles to meet your design aesthetic, from elaborate Victorian to sleek minimalist.
Traditional Timber | These stunning designs with ornate details and contrasting finishes are ideal for Victorian and Federation homes
Classical Timber | For a simple, elegant look in a variety of finishes, these designs never go out of style
Curved Timber | Bring a sense of glamour to your space with sweeping lines equally suited to a traditional or modern style
Contemporary Timber | Contemporary designs incorporate a variety of materials including glass, steel and stainless-steel wire for a one-of-a-kind look
Lumber Options for Timber Staircases
Your new timber stairs will be crafted from only the finest, ethically-sourced lumber. Popular wood choices include:
New Zealand Clear Pine | With its light-yellow shade and faint grain, pine is suitable for painting or staining. This wood is a clear winner for its versatility
Western Australia Jarrah | Featuring a unique wavy or interlocking grain and deep red, brown, and burgundy shades, Jarrah provides a warm, classic look
New South Wales Blackbutt | Blackbutt can be light brown, cream or pinkish in colour. It's even texture and straight grain make it suitable for polishing or staining
American Oak | This versatile wood has a light to medium brown hue and distinct grain pattern to give your staircase a unique appearance. It is a classic choice that is also used in cabinet making
French Oak | With a distinct grain and yellow-brown shading, French Oak presents a well-worn, one-of-a-kind look
Tasmanian Oak | Featuring a straight, even grain and a range of pale shades like cream, pink and reddish-brown, this wood offers an excellent surface for staining. Tasmanian Oak works well with a variety of styles
American Black Walnut | Sought-after for its range of rich, brownish tones and straight, even grain, this wood has a lustrous quality that truly stands out
If these options don't meet your vision for your staircase, we'll search and source staircase timbers from other areas to find the ideal material for your home improvement project.
Taking Steps Towards Your Timber Staircase
Majestic Stairs can help make a timber stair case the focal point of your home or business.
We will prepare a quote based on a review of your upper and lower floor plans, the style and atmosphere you want to create and your chosen materials. We know you're excited to transform your home's areas, so we will get back to you with the quote in 24 to 48 business hours.
After placing your order, our team of skilled craftsmen can typically complete the installation in two to three weeks. If you choose exotic timber that we need to source from a distance, installation may take a short while longer.
Majestic Work from Majestic Stairs
We built our reputation on our high standards for our work. We believe you can only get Majestic Stairs from exquisite craftsmanship and high-quality materials.
Depending on your project, we'll use high-tech industry equipment or traditional techniques that have been a hallmark of prestige building for generations.
Our dedicated team bring years of carpentry work experience and many talents when working on timber stairs and balustrades. The final touch will be to your total satisfaction, and we promise our service quality will impress you.
Contact Majestic Stairs at (08) 9329 3370 to explore the beautiful potential of our custom timber staircases.
What Are The Benefits Of Installing Timber Staircase?
A home staircase offers a medium to move from one floor to the other in a house and receive a high amount of foot traffic. So, you must include your staircase in your remodelling plans to keep it in safe and ideal conditions. And when it comes to improving the function and the design of your staircase, it is very important to choose the right staircase material. Here are the top four qualities which make the timber the ideal choice for making the staircase
Lightweight
If you want to add tall or winding staircase at your home, then it is good to go with timber stair treads. Being lightweight in nature, the timber treads do not place any excessive stress on your floor and you do not need extra support as well.
Varied Grain Pattern
Wood grain can add a special ambience to your home, it also gives you the option to choose the pattern you wish. Timber species come with several grain patterns to suit your needs, give the leverage to select the timber tread pattern that goes well with the wooden furniture and the fixes in your room or stand out by contrasting the wallpaper design.
Comes With Random Colours
From dark oak to light ash, there is a wide array of colours to choose from for the timber staircases. And if you wish to go for the pattern that is completely visible to others, the go for lighter finish treads. You can opt for the ebony finishes, it is so dark that it can hide the grain pattern. However, with ebony finishes, you can get an earthy and rustic appearance, which allows you to add a touch of outdoors to the interior of your home.
Offers Versatility
Another notable benefit of choosing the 
timber staircase
 is that they can be made up of the same timber as your flooring. Make sure to choose the material type that is durable and can withstand the harsh UV rays.
Wide Range Of Selection
With timber treads, you are left with so many profiles to choose from like tread and riser, slimline, L-shaped, solid, etc. If you are looking for some other styles or profiles, consider contacting staircase installers, they will stain or oil your stairs in with colours and finishes you prefer. Go with traditional design or any contemporary design you like, whatever design you choose, the timber species are sure to enhance your space with a warm ambience, long-lasting beauty and strength.
These are all the benefits of installing timber staircases. In Perth, you can find several timber staircase installers, choose the one which matches your needs.
Stay tuned to our blog space for more such interesting updates and write-ups on staircases.
Traditional Timber Staircases
The beautiful staircases that feature in the Victorian and Federation houses in our older suburbs can be recreated by our craftsmen in the finest detail. This style of staircase often referred to as Hamptons features darker timber such as Jarrah or a combination of timber treads with a contrasting painted finish for the posts and balusters and risers. Traditional staircases also feature many ornate details such as turned posts and balusters, post caps or ball tops and extended 'D' steps at the bottom which can be either square or curved shaped. Many of these staircases are enclosed underneath and can feature decorative panelling. These staircases are rarely just functional and are often in the entry hall where they create the grand style of the home. Browse through the images below to view some of the beautiful traditional timber staircases that we have built.
Classical Timber Staircases
A classical staircase features many of the elements of the traditional style but they are not as ornate and have a simple but elegant look. These designs can feature either a cut or standard stringer at the side and can have either a timber or painted finish, or a combination of both. A beautiful feature that is often used in a classic style is to have an extended 'D' step for the first step or the first 2 or 3 steps. Detail can also incorporated into the stringers to match skirting boards. Browse through the images below to see some of the beautiful classical solid timber staircases we have manufactured.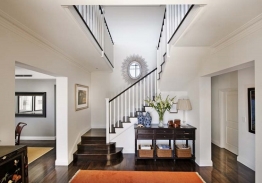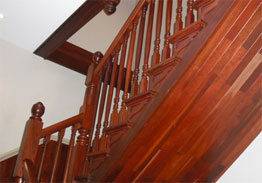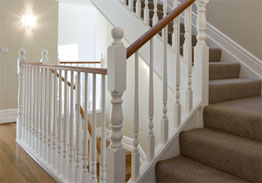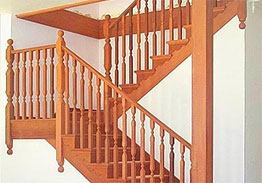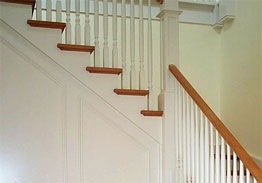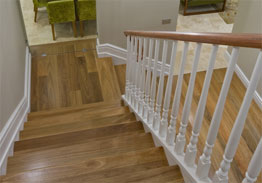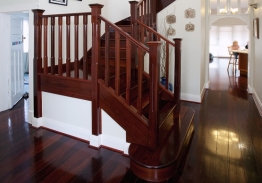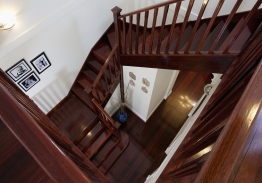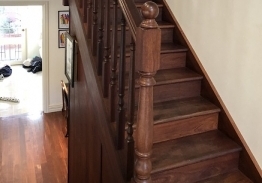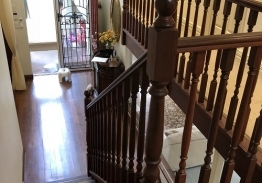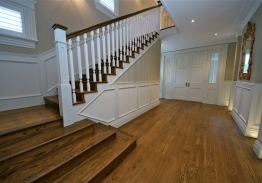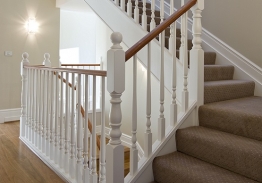 Curved Timber Staircases
A home that features a curved staircase always has a sense of 'Hollywood' glamour.  The beautiful sweeping lines are always elegant and can have a modern or traditional style.  Our craftsmen manufacture the stairs almost completely in our factory using time honoured methods that have changed very little over the last few hundred years and they are then disassembled and rebuilt in situ.  Browse the images below to see some of the curved solid timber stairs we have constructed.
External Timber Staircases
External timber stairs can be made with either timber or steel stringers but they must be made with a hardwood such as Jarrah or else treated pine to withstand the rigours of the weather and pests.  To assist with water disbursement the treads are designed in two pieces to allow a 10mm (approx) gap between them and have a number of grooves for traction.  All external timber requires regular maintenance to keep it looking and performing at its best.
Contemporary
A contemporary staircase can encompass elements of many styles including open or closed risers and offers the opportunity to really individualise your staircase.  This style allows, for example, some retro design features to be used such as timber balustrade with an insert of wrought iron or stainless steel rods either vertical or horizontal.  The retro theme can be continued on the treads using square nosings and an undercut stringer. The detail on a contemporary staircase is not as ornate as the more traditional styles but not as sleek as the modern style.
To Majestic Stairs

I am the architect for the above project. The house was built in 1904 and is heritage listed. The staircase was a very important element in the design. Your company manufactured and erected the staircase which is now in a finished state – painted and varnished. The end result is first class. Everyone is delighted and special praise to the on-site carpenter whose attention to detail was of a very high standard.

Well Done!
To Majestic Stairs

We wanted to drop you a quick note to thank you and your team for providing us with both high quality and beautifully finished jarrah staircase for our home.

Having replaced the old spiral staircase, we have provided a much safer environment for our children. A real estate agent confirmed that the new staircase has also added to the value of our property for substantially in excess of their cost.

Well done again and should you ever require a personal reference vouching for the quality of your work, please do not hesitate to contact us.
To Majestic Stairs

Thank You! Our new balustrade looks great.  The workmanship is truly amazing, it really is a 'work of art'!  Best wishes & kind regards.
To Majestic Stairs

I have recently had the pleasure of having a staircase installed by Majestic Stairs, I would just like to say that the whole process was so well managed from the start right through to the installation. The workmanship is second to none, I have had a number of people comment on the quality of the staircase.
I highly recommend Majestic Stairs and certainly, if the need arose would use their services again.
To Majestic Stairs

Very rarely these days do I have cause to put pen to paper to praise someone but feel I really must communicate how happy my wife and I are with the floating steel staircase that your company recently installed for us.  The quality of the powder coat finish on the steel is exceptional and the Blackbutt wood absolutely superb.  Your tradesmen were very courteous and minimised the disruption to our business and were amazingly tidy.  Please thank everyone involved for us.
To Majestic Stairs

We wanted a cutting-edge centrepiece for our new home and following a recommendation from our architect approached Majestic Stairs for a solution.  From the second we walked into their showroom we knew we had found our answer.  The depth of knowledge imparted by Chris and the way he explained everything in a no-nonsense easy to understand way made our final decision simple.  Now fully installed our staircase is a beautiful work of art that perfectly compliments our home. Thanks to all and very well done all at Majestic.
To Majestic Stairs

Thank you for our new balustrade.  We are both very happy with the quality and result.  Your guys were great – I met Ray at the beginning of the job and was impressed with his work approach – very cutting-edge and neat, looking after our new floors.  Also, thank you for your drawings and explanations along the way.  You made the process easy for us.  Thank you.
To Majestic Stairs

Just a quick note to say many thanks for installing my balustrade at my home.  A big thanks to all concerned – very happy with quality of workmanship, cleanliness and timing of Job.
I am a home improvement builder who has used this company for as long as I can remember.  Majestic Stairs provide a professional and experienced service from start to finish.
Just a quick email to say what a great job your carpenters have done installing the stairs and handrails at Momentum.  All your staff have been first class, professional, tidy and approachable at all times and a credit to you at Majestic.  Many thanks and look forward to working with you guys again soon.
Chris,

You guys have done a terrific job installing the stairwell today. My thanks to you and them for a very efficient effort. The new stairs have opened up the area hugely and without the balustrade at the end allows a lot more light into the room and passageway from the adjacent window. Cheers.
To Majestic Stairs

Just wanted to let you know how stoked we are with the work you guys at Majestic have done.

Everything looks unreal, the level of detail and craftsmanship is outstanding! Thanks for working through the challenges we threw at you as well.

Cheers,

Duncan
Hi Vince,

Just wanted to say how impressed I am with not only your obvious vast experience but your willingness to go that extra step (excuse the play on words but couldn't resist) to achieve the best possible outcome for the client & the company you are a great ambassador for Majestic stairs & am confident I shall be extremely pleased with the finished product & I shall take every opportunity to spread the good word.
Hi Paul,

I just wanted to say thank you.  The hand rail looks fantastic!
Dear Chris,

We just wanted to thank you for both the time you spent advising us regarding the balustrade and for producing the balustrade. We are very glad that we did opt for the real walnut rather than hoping to stain Tasmanian oak to match the walnut floors. The balustrade, even in its current unpolished state is lovely and compliments the walnut flooring and stairs perfectly. It was absolutely the right choice.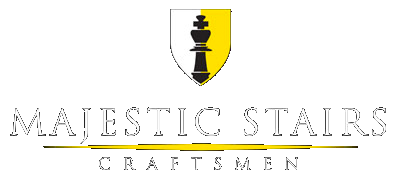 Majestic Stairs
58 Sussex Street
Maylands 6051
Western Australia
Email us your upper and lower floor plans, and if possible the stair details, to  and we will get a quote back to you in 24 to 48 business hours. If you know what type of materials and timber you would like please advise us in the email so we can give you a more accurate quote. There is no charge for initial quotes and we can provide you with two alternative timber quotes as well as a number of design variations
When comparing quotes, make sure that you are receiving quotes for the same style of stair with similar quality and size of materials.
If you find that one quote is considerably cheaper than the others you may wish to check whether you are being offered the same quality product and materials.
We are more than happy to answer any questions if there is something you are unsure of.